On the eve of the opening of his new show at 212 Arts, entitled 'No rest, No rust' we ask 5 questions at 5pm to the world renowned Chris Robots Will Kill. You can purchase remaining pieces from the show HERE online, or see them in person tonight, doors open at 6pm, located at:
212 Arts – 523 E. 12th Street, East Village, New York City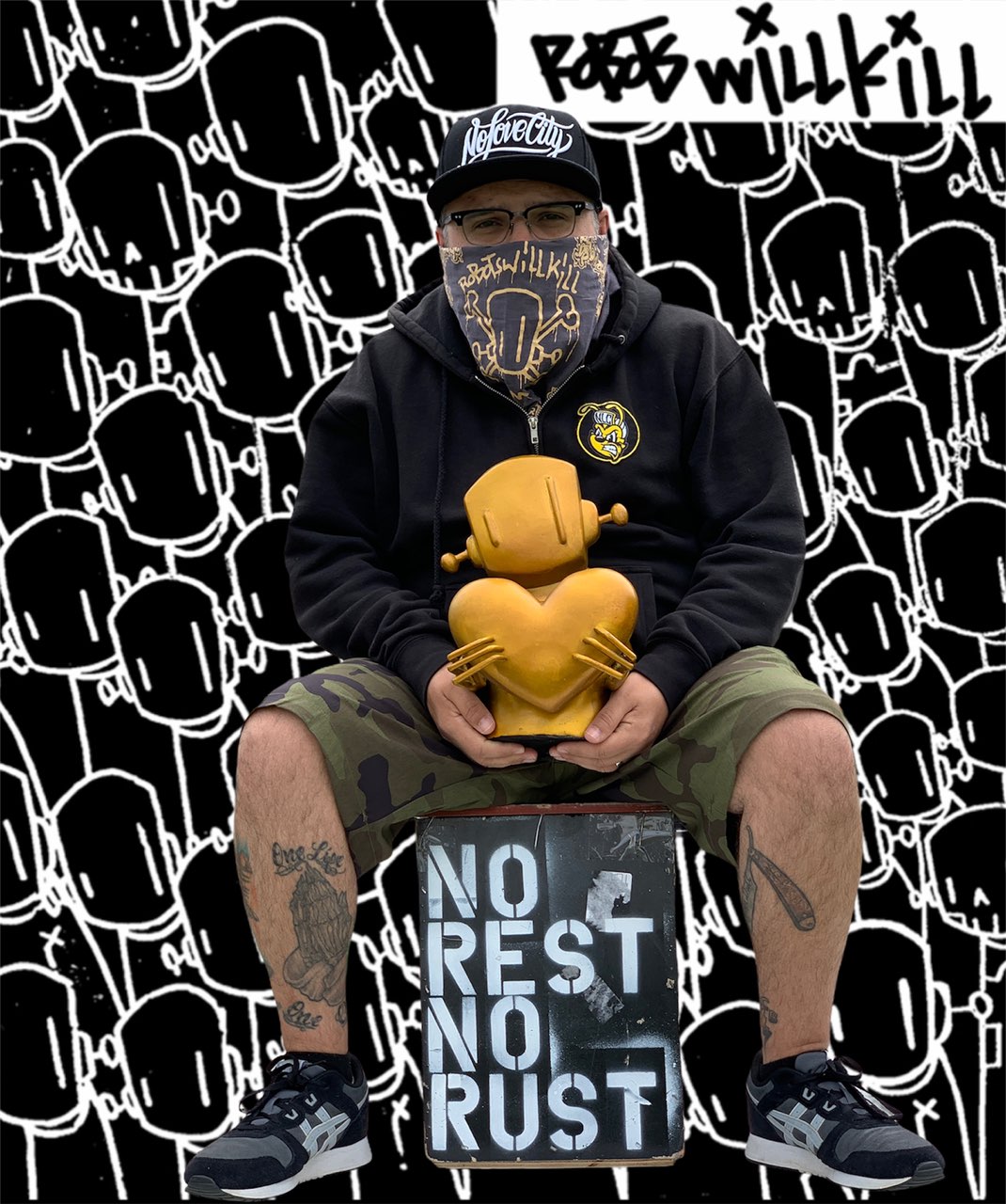 QAC:  So let's talk about "No rest No rust" for a sec. With an incredible variety consisting of a measley 67 paintings, (a lot of which have sold already before the show opening), what's the message you want to convey with this particular body of work?
Chris:  I actually kept working so now there's 71 paintings in the show. But whose counting. This show is full of emotion for me. In the past 2 years I lost my dad, my dog, 6 friends, my mother in law, had Covid and lost my mom in April. Through all of it the artwork has been there. I'm lucky cause there's people out there you don't have that outlet. I think about that a lot.
QAC:  One of the more impressive pieces in "No rest, No rust" is the bronze robot statue produced via the classic lost wax method. Not many artists step out the norm to attempt something like this nowadays, how did that come about? And with so many modern outlets like 3D printing available, why was preserving the ancient casting techinique important to you?
Chris:  UVD toys told me they had a foundry they were thinking of working with and they knew I've always wanted to do something like the bronze. I completely respect the new methods out there but a bronze sculpture has a classic feel to it. Something that evokes an emotional response. That feeling of a sculpture.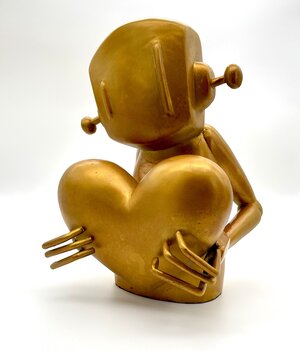 QAC:  It's been a long road with incredible success in your art career, especially the past decade. When your name is mentioned in conversation, terms like hard working, humble, talented, supportive and genuinely nice guy come up. Have you finally figured out the secret to breaking the stigma, "nice guys finish last"?
Chris:  Hahaha nah. I truly appreciate hearing all those terms. I think one of the driving forces behind me is always feeling like I'm finishing last. Like there's always more to do, more to accomplish. I'll always feel like there's people out there doubting me. I always say for the 1 person that knows me, there's 10 that don't. That keeps me humble I think. There's plenty of galleries or people who still don't know who I am or won't give me a chance, even after 20 plus years.
QAC:  It's the 80s… After hooking electrodes to a robot with a bra on your head and hacking into a government computer system for energy, your famed robot comes to life.. what's he like?
Chris:  Hahaha that's a great question. I think he'd say something like "why?" I think he'd want to know why he's here. He's always felt inquisitive to me. Something about his simple eyes and hunched shoulders has the underdog "why" emotion.
QAC: After that last hard hitting Weird Science question, why don't we wrap up the 5 at 5 by letting the readers know what upcoming projects, shows, events they can look forward to this year. (We promise to keep any exclusive news secret and only share it on the internet 🤞).
Chris:  Thank you 🙏🏻
– "No rest No rust" opening June 10th at 212Arts
– Solo show August 6th at Strange Cat gallery in Tampa Florida.
– September 2nd solo show with Stowe gallery in England.
– September show with clutter gallery in beacon, NY.
– January solo show with Rotofugi in Chicago.
– March solo show in Hong Kong.
Also some group shows mixed in there, with Deepspace gallery, my plastic heart and others.
Some new merch like the puffy stickers. A few more 3D works before the end of the new year. Ones with UVD toys, Strange Cat toys and Clutter….. And maybe some sleep.